Determine sub-surface ground characteristics for infrastructure development.
Geotechnical services involve exploratory drilling combined with testing and instrumentation installation to determine sub-surface ground characteristics for infrastructure development purposes including, but not limited to; tailings storage feasibility or upgrades, pipeline alignment investigations, hydro-electric dam feasibility investigations or upgrades, road network evaluation, LNG facilities and construction/ foundation design for buildings. As of 2016 Geotech also has the ability to drill offshore with a barge and drill system. This method has been successful on multiple near shore (marine) LNG facility investigations.
Many mining, consulting, construction and utility companies, contract Geotech's drilling services to complete subsurface investigations to evaluate their properties. Unlike exploration drilling, these geotechnical projects focus on the characteristics and structure of the subsurface material, rather than the value of the mineral composition.
Geotech was founded in 1996 with an emphasis on geotechnical specific programs, after identifying a need within British Columbia's Ministry of Transportation division. Geotech facilitates investigations to obtain information required by clients including the drilling of multiple boreholes, completed with various in-situ tests, and installations. These testing techniques include but are not limited to; standard penetration tests, cone penetration tests, packer tests (pneumatic and hydraulic), shelby tubes, piston sampling, core orientation, vane shear (nilcon and standard), and hydro fracturing tests. Geotech also offers an array of instrumentation installation services, including but not limited to; monitoring wells, vibrating wires, slope inclinometer casings, extensometers, de-watering pumps, and nested installations.
---
Gregg Drilling & Testing Canada
As of 2016 Gregg Drilling & Testing Canada, has become part of the Geotech Group of Companies and offers a full suite of competitive drilling and Cone Penetration Testing (CPT) services.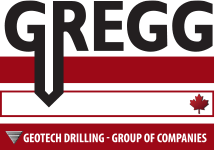 Since 1985, Gregg Drilling & Testing Inc. (Gregg), has been a leader and innovator in site investigation services. Gregg has been pushing cones for over 25 years and is currently one of the largest operators of CPT equipment. With multiple drill rigs and CPT trucks, Gregg has the experience, knowledge and systems in place to successfully complete large and high-risk projects for safety conscious clients.
Similar to Geotech's exploration services, these geotechnical services have grown significantly and include projects in; the Canadian Arctic, Western Canada, USA, Chile, Greenland, and Suriname.
---
GEOTECHNICAL DRILLING CLIENTS
Numerous major pipeline, mining, construction, consulting, and utility companies have sought Geotech's geotechnical services to complete projects. These clients include, but are not limited to:
AMEC (change to Wood PLC),
Advisian
AECOM
BC Hydro
BGC Engineering
Centerra Gold
Conuma Coal
Core 6 Environmental
Corrosion Services
Diavik Diamond Mines
Fortis BC
GeoPacific Consultants Ltd
Golder Associates
HATCH
Higher Ground Consultants
Integrated Sustainability
JJM Construction
Kinder Morgan Canada
Klohn Crippen Berger
Knight Piesold
Ledcor Group
Ministry of Transportation
New Gold Mining
Northern Geo
Parkland Geotechnical
Peace River Hydro Partners
Red Chris Development Mine
Rio Tinto
Seabridge Gold
SNC Lavalin
Stantec
Teck Resources
Teck Highland Valley Copper
Terracon Geotechnique
Tetra Tech
Thurber Engineering
TransMountain Pipeline L.P.
---
Geotechnical Projects
A few of our Geotechnical Drilling projects. To view more, click here.
Northwest Territories, Canada
North-central BC, Canada
Northeastern BC, Canada
Eureka, Nunavut, Canada
Golden Triangle, BC, Canada
Tumbler Ridge, BC, Canada
Grande Prairie, Alberta, Canada
Northwest Territories, Canada