Lower Mainland Branch Opening Soon
Geotech is proud to announce that we are expanding our operations to Delta, British Columbia in the Lower Mainland! We recognize the current and future opportunities in the Lower Mainland for drilling services and wish to provide an advantage to our clients for decreased mobilization costs and familiar choice for a local contractor.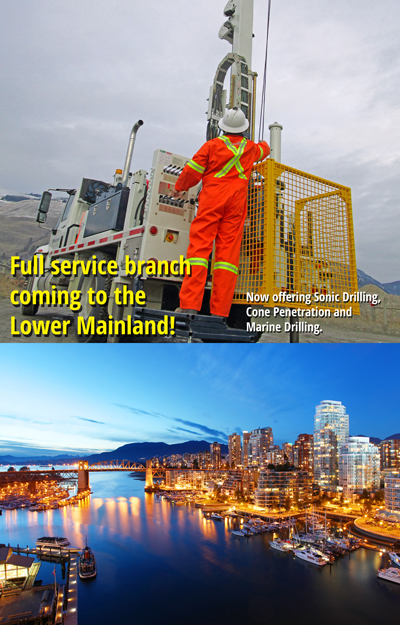 Geotech has operated throughout the Lower Mainland for over 20 years, supporting programs from our operations in Prince George and Vernon, BC. Regionally, our team is actively involved in numerous pipeline alignments and local infrastructure programs in the Lower Mainland. With this new location, we will endeavor to increase our engagement with regional vendors and services.
In the coming weeks, Geotech will be mobilizing drill rigs, support equipment, and tooling to serve the infrastructure (geotechnical & environmental) drilling sector in the Lower Mainland. Further to office space, this location hosts a full-service shop, warehouse, and equipment storage yard to support our regional projects.
How will this new location benefit our clients?
Reduce mobilization costs for project sites in the Lower Mainland
Assist with the efficiency of project logistics before, during, and at the completion of projects in the region
Support local vendors for inventory and supplies
Provide the opportunity and advantage of a "local" contractor
Geotech believes that working safely enhances drilling production. This belief is shared throughout the entire organization, from the new employee at the work interface, through to the most senior manager. Our commitment to "safe production" is critical in establishing and maintaining a safety culture.
Geotech is excited for the new opportunities which lie ahead and look to provide a sustainable business in the region.
For more information regarding our new branch in the Lower Mainland please contact our Marketing Department at marketing@geotechdrilling.com.