Donor Gift Agreement between Geotech Drilling Services Ltd and Sir Sandford Fleming College
Geotech Drilling Services Ltd is proud to have partnered with Sir Sandford Fleming College of Applied Arts & Technology, with a pledged donation over five years to support students, program delivery, and enhancements in the Resources Drilling Technician Program.
A portion of the funds will also go to support the Geotech Drilling Services Ltd Award for Excellence academic award, and the Building Bridges for Women in Trades & Technology program award, to help reduce the financial barriers many students face in post secondary education.
In honour of this donation, Sir Sandford Fleming College has named a classroom in the Parnham Training Centre the "Geotech Drilling Lab".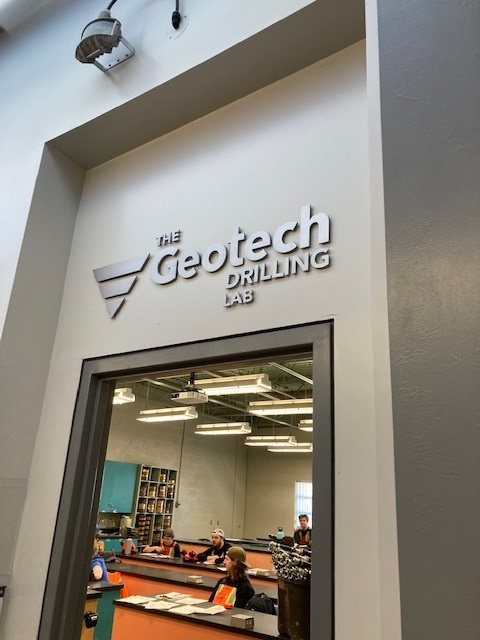 Fleming College's School of Environmental and Natural Resource Sciences (SENRS) was founded in 1967, and is now Ontario's leading college for environmental and natural resource sciences. The Resources Drilling Technician program is one of a kind in Canada. Fleming College offers the only college program in Canada providing training in Drilling, and the only program in the world offering training in so many of the different types of drilling.
Students of the Resources Drilling Technician program will learn the foundational theory, techniques and methods relating to each of these types of drilling, with an emphasis on safe working practices, while they learn to operate a full range of drilling equipment hands-on. Fleming College knows that numerous sectors rely on drilling skills, and grads of this program are in high demand, with over 100 students successfully graduated from the program since inception.
Geotech's donation will help support Fleming College by:
Helping to deliver the trained graduates needed by industry, to offset the growing skills gap and impact their sustainability, reputation, and bottom line.
Helping to expose tomorrow's environmental leaders to the latest equipment, practices, and technologies employed by industry.
Helping to sustain Fleming's leading role in natural resource sciences education in Ontario and the top reputation of its graduates.

We are excited to enter this relationship with Fleming College, and are committed to supporting and educating the next generation of leaders in the drilling and environmental industry.
For more information on Fleming College and the Resources Drilling Technician Program, check out their website here: https://flemingcollege.ca/programs/resources-drilling-technician/curriculum?start=january-2023