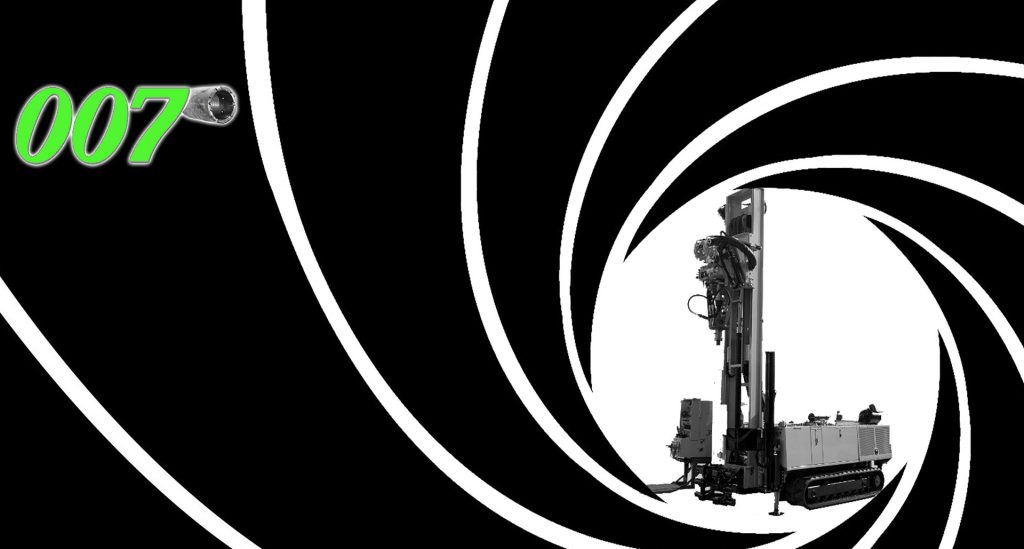 In an world where continuous recovery is key, one methodology reigns supreme. This methodology takes a machine that shakes and doesn't stir, a machine that continues to revolutionize the drilling world, a machine with a license to drill. Introducing Geotech's Drill #007….Sonic…Terra Sonic.
…Coming to a project near you November 2018…
The Geotech team would like to thank all our clientele for the great support in the growth of our sonic division. Due to the overwhelming demand we have completed an order for another Terra Sonic 150CC drill. This additional drill will bring our sonic fleet to 3, and bring our total rig fleet to 43, which includes, track, truck, underground, amphibious, and heli-portable drills.
During the procurement of this drill, it just so happened that our operations department was re-numbering our fleet, and this new sonic drill will be unit 007! Although we cannot promise your next job with this drill will be as exciting as the latest Bond movie, we can guarantee that it will get the job done with class and efficiency.
This drill rig features an exclusive TSi 150 Sonic oscillator that efficiently utilizes up to 150 horsepower to generate powerful resonant sonic energy in the drill string to a rated drilling depth of 244 meters (800 feet) with 152.4 mm (6 inch) casing.
An additional feature of this drill includes the option of full conventional rotary drilling capabilities, allowing this rig the ability to complete rock coring.
The TSi 150 Compact Crawler mast enables drilling angles anywhere between vertical and 45°, incorporates an integrated hose management system within its tubular frame, and utilizes a drive system that operates the feed frame with half the chain length and rollers of conventional drive methods.
The standard mast handles 10′ drill steel for faster and efficient borehole advancement.
This drill is capable of completing many types of drilling programs, including, but not limited to;
Continuous soil sampling in geotechnical and environmental investigations or remediation
Investigations to optimize yield recovery or quantify reserves in mineral or aggregate exploration
Confirmatory testing and continuous sampling during dam and levee investigations or remediation
Pump/ flow tests for water resource or dewatering
Installation of monitoring probes and recovery wells in landfill investigations and expansions
Mirco-pile or earth anchor installation during infrastructure projects
The Geotech team is pleased to provide yet another drilling option to our clients and looks forward to the successful completion of many programs to come.
For more information on how our Sonic Drill or how our team can assist you on your next project, please do one of the following;
Contact our Sonic Division Manager at 1-888-228-1234
Email us at marketing@geotechdrilling.com
Check out the specification sheet HERE.