First Heli-Sonic Program Complete!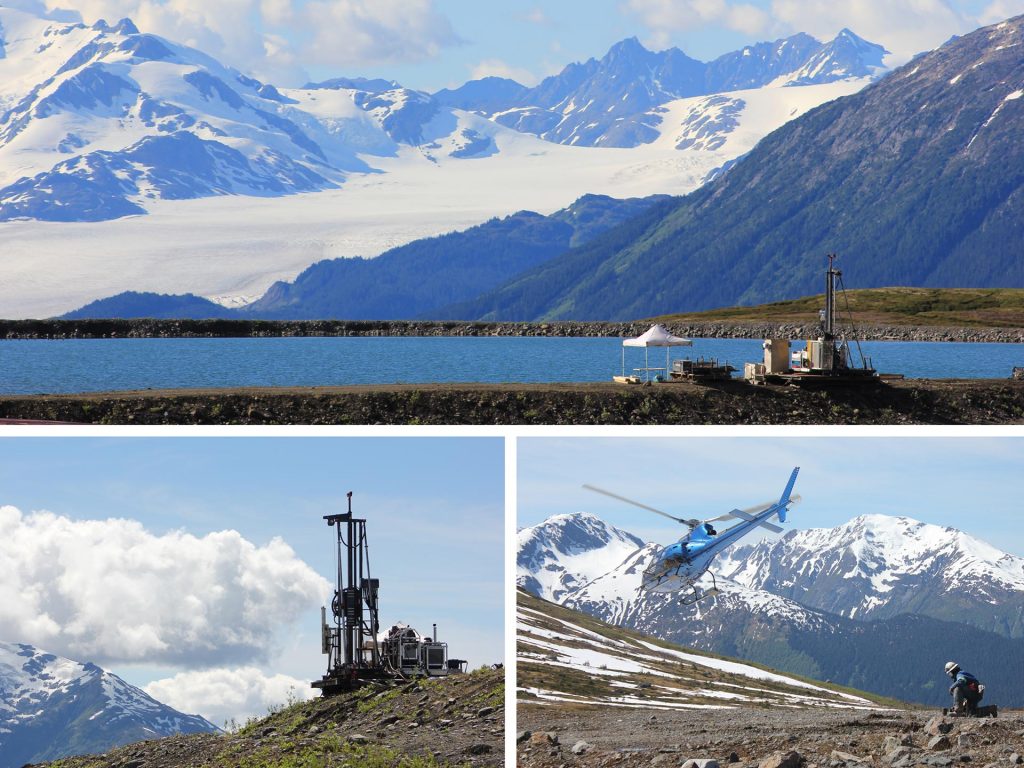 Geotech is proud to announce that we have successfully completed our first drilling program with our Heli-Sonic 4000 (HHS4000) under Tahltech Drilling, Geotech's partnership with the Tahltan Nation Development Corporation (TNDC).
The Hydracore Heli-Sonic 4000 (HHS4000) drill is providing a new, efficient method for the investigation of overburden deposits, allowing greater accuracy of field data collection, which is of particular importance to both mining and engineering firms when reviewing deposits and also planning infrastructure works.
In recent years, the sonic methodology has seen increased implementation with investigations of soft subsurface sediments, notably tailing deposits. With the added benefit of achieving up to 100% recovery throughout the bore, the engineering and soil data that can be obtained is second to no other drilling method.
The geotechnical investigation was completed for SnipGold Corporation (a Seabridge Gold subsidiary) on the old Johnny Mountain Mine Property, near the Bob Quinn airstrip. SnipGold has recently initiated a robust environmental program aiming to remediate areas of historical mining activity at its newly acquired Iskut property in northwestern British Columbia, including the Johnny Mountain Mine, a past gold producer.
The heli-sonic drill was used to advance five boreholes to depths of up to 15 metres, through compacted tills, clays, boulders and rock. Throughout the program the drill crew was asked not to use any water to advance the boreholes to ensure the ground was not subjected to increased bit face pressures, that could potentially affect the integrity of the structure.
Further to the sonic drilling, a secondary heli/skid drill was utilized to complete ODEX drilling for the installation of 2" piezometers. The ODEX methodology utilizes a rotary air blast method while drilling a casing to sleeve the borehole, allowing for the installation of instrumentation.
"Tahltech Drilling Services proved to be a valuable partner for SnipGold. We set rigorous technical expectations for this group and they were met. With the Johnny Mountain Mine Project, it was extremely important that all our partners adhered to set schedules and timelines, which Tahltech did. Because they reflected our commitment to safety in all their operations, they helped to build a strong relationship and we believe their latest technology will be beneficial for Projects in the area." Elizabeth F. Miller M.Sc., R. P.Bio., Program Manager, SnipGold.
Geotech's Sonic division is capable of completing various types of drilling programs, including:
Continuous soil sampling in geotechnical and environmental/remediation investigations
In-situ and downhole testing such as standard penetration tests and packer testing
Investigations to optimize recovery or quantify reserves in mineral or aggregate exploration
Confirmatory testing and continuous sampling for tailings dam and levee investigations
Hydrogeological drilling and installations for watershed and mapping investigations
Micro-pile or earth anchor installation during infrastructure projects
For more information about the HHS4000, its capabilities and availability, review the rig specification sheet HERE and contact us at info@geotechdrilling.com or 1-888-228-1234.